DISCOVER THE NEXT STEPS OF YOUR FOUNDATION SEO SERVICE
What happens next?
Setup and Monthly Service
The Keyword Plan: involves a large amount of research for the SEO Team. This research includes a review the client's own website, data review of Google tools such as Google Analytics, Search Console, review of Competitors, the KEI, Local Ranking, Search Data etc. When ready for review, the Plan will highlight our recommended 'Primary Keyword'. It will also give guidance to understanding the effectiveness, competition and search numbers for each keyword. There will be approx 30 keywords included in our Keyword Plan and we'll ask you to assist your client in choosing a single 'Primary Keyword'. This keyword will be the focus for the Home page of the website so it needs to be an 'overview' type word which describes the business well. The Primary Keyword will be the focus of the monthly SEO Card reporting also.
Please review the Keyword Plan and return to us at your earliest convenience with your chosen 'Primary Keyword'. The team will not progress with the creation of the Metadata until this is confirmed.
Metadata: Once the Primary Keyword is confirmed we will proceed to write the Metadata for the Main Menu pages only. Internal pages meta is produced during the course of the tasks. Blog pages will be added later also.
Please review the Metadata per page and return to us at your earliest convenience with your edits/approval.
Tasks: The team member assigned will commence the tasks within our SEO portal workflow tool. The flow of tasks within the portal are set out in an order of importance, hence, we always start at the very beginning. Each task has a point value and a time allowance. **Please note, these are indicators only and do not relate entirely to the number of tasks completed in a single month. The points allowance per tasks relates to the importance of the task and the 'impact value' for the websites online visibility. The time allowance gives your client a general idea of how long each task takes to be completed on average.
Reporting: Consultants will be added to the portal via your email address. This will enable you to add your **clients details to the reporting section if required. We will setup a reporting schedule to deliver a number of reports via email at the end of each month directly to you. We can also issue you with full access to your client campaigns, to review the Reports at any time, set up new schedules and download them directly for your client. Please advise the team if you'd also like your client to have access to their portal account.

To view and schedule reports:
- Click on Reports - bottom of side Menu
- There is a full list of reports and Automation to schedule reports or create new schedules: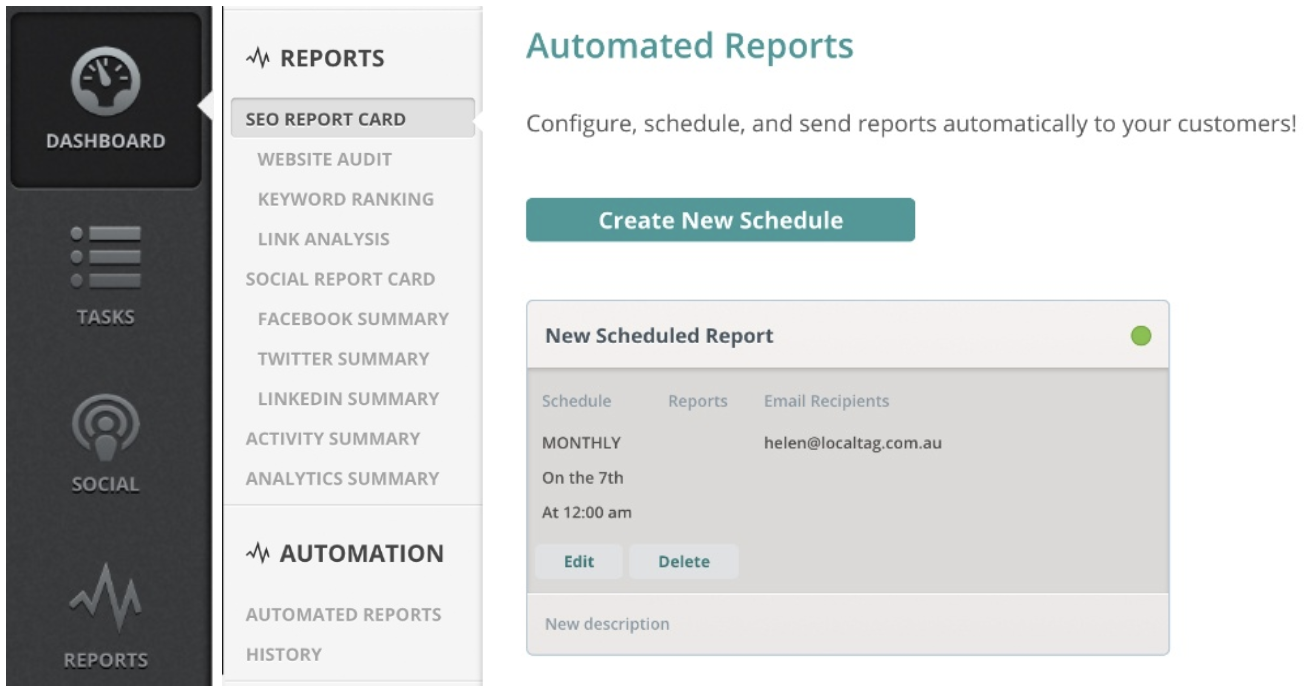 We'll include these monthly Reports for you:
SEO Report Card
Local Report Card
Keyword Ranking Report
Analytics Summary
Ongoing: During the course of the monthly service there may be some areas of the website which the team require your assistance with e.g. adding content to pages etc. If this is needed, the team member will contact you via Basecamp and request any assistance as and when needed. In most cases, this will be to add images or content to a 'thin' page of the website OR to create a new page focused around a specific keyword. Similarly, if you have requests for content and/or new service pages etc from your client please address these with your Team Leader via Basecamp. We offer all content, blog writing, image sourcing etc.
Supporting Services: Today, with changing consumer behaviour, SEO alone is not enough to gain quick, good ranking results for a website. We always recommend working with your client to create a marketing plan, which includes SEO, along with added components, such as Blogs, Reviews, Social Sharing, Paid Advertising etc to gain excellent results for your client. Feel free to discuss these options with Pete Nicholls and your Team Leader as well.