Your step-by-step guide to starting your DoCurrencies free subscription and installing it into your HubSpot Portal
About DoCurrencies:
DoCurrencies automatically updates your HubSpot currency rates every day
No configuration is required. All active currencies are updated once per day.
"Update Currencies Now" button, to set up new currencies instantly.
Works with all paid editions of HubSpot Sales Hub: Starter, Pro & Enterprise.
Create your subscription and connect DoCurrencies to your HubSpot:
Follow these easy steps to create your DoCurrencies free subscription and connect the App to your chosen HubSpot account. The link below will open the DoCurrencies App on the HubDo Marketplace in a new browser window so these instructions will stay put!
Tip: Use a company email address, NOT Gmail.com etc., when signing up a new company on HubDo Marketplace. As a B2B platform, HubDo Marketplace associates your account subscriptions will your email domain name.

2. On HubDo Marketplace, search for DoCurrencies if needed, and click Try the Free Edition

3. Log in to HubDo Marketplace or Sign Up to Create a new account.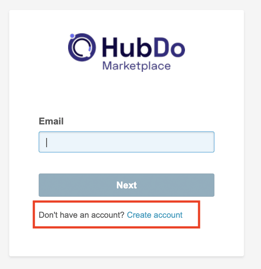 Your Free Edition request takes you directly to the shopping cart to Check Out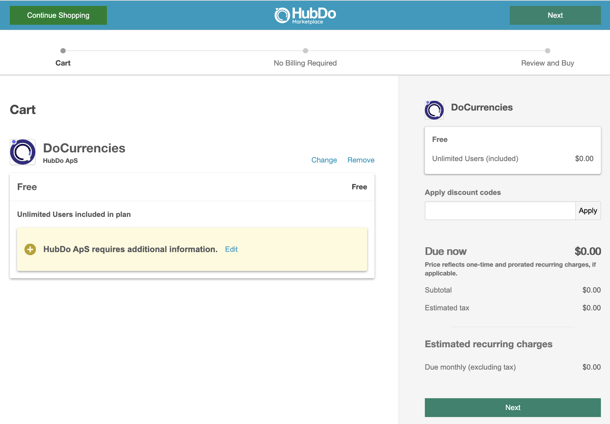 4. You also must add your HubSpot Portal ID as additional information.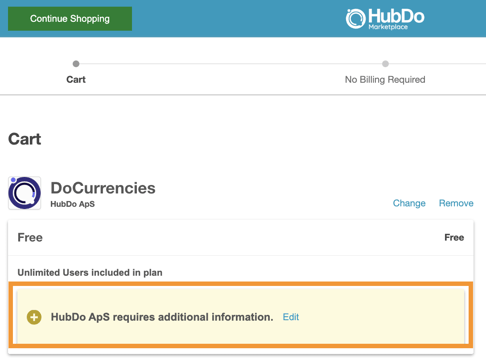 Next to the yellow "HubDo requires additional information" press Edit
Enter the HubSpot Portal ID > Save details
Ignore any 'optional' message. Your HubSpot portal ID is required to activate DoCurrencies.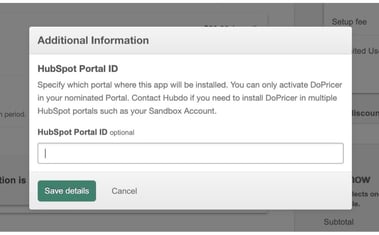 Tip: Locate your HubSpot Portal ID by pulling down the right-side menu inside HubSpot. Your portal ID is displayed just below your profile, for example, 9876543
5. Click NEXT to complete and create your Free subscription.
Thanks!
---
Installing DoCurrencies into HubSpot
To view DoCurrencies and any other Apps you've purchased through the HubDo Marketplace, log into your account and
Click on View My Products or the 9-dots icon (circled) in the top menu bar,
to see the App in your HubDo Marketplace MyApps screen.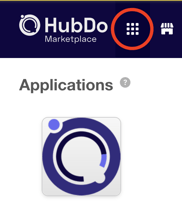 Initially, the Icon appears in faded grey, whilst the account is being created and HubSpot approves the connection and upgrades your portal. Allow up to 24 business hours.
Tip: App icons appear greyed out when they are in the process of being 'created'. There is a 24 hr wait period for approval from HubSpot. Once approved, the icon will turn solid.
When the DoCurrencies App icon is solid, click it to connect DoCurrencies to your HubSpot Portal.

If you're presented with several HubSpot portals, select the correct one to match the Portal ID you entered earlier. Then press the button "Choose Account"
Tip: You must be a Super Admin in your HubSpot portal to install an App
Click > Connect app
and you will automatically return to our support documents for the configuration of DoCurrencies in the HubSpot account.
You can then manage your DoCurrencies settings within your HubSpot account >
Settings > Integrations > Connected Apps > DoCurrencies > General Settings