We explain what happens next, once you receive your Website/Template Migration from HubSpot
Migration Review Timeline
You will be notified approximately 10-21 days after the migration project is created. If your migration is taking longer than expected, you may enquire about the status of your site by reaching out to your HubSpot contact or checking the timeline (Account menu > Account & Billing > Migrations) in your portal.
Getting your Migration Review Checklist from HubSpot
HubSpot will be sending you an email once your Website or Blog Template Migration is complete. Your email should look like this: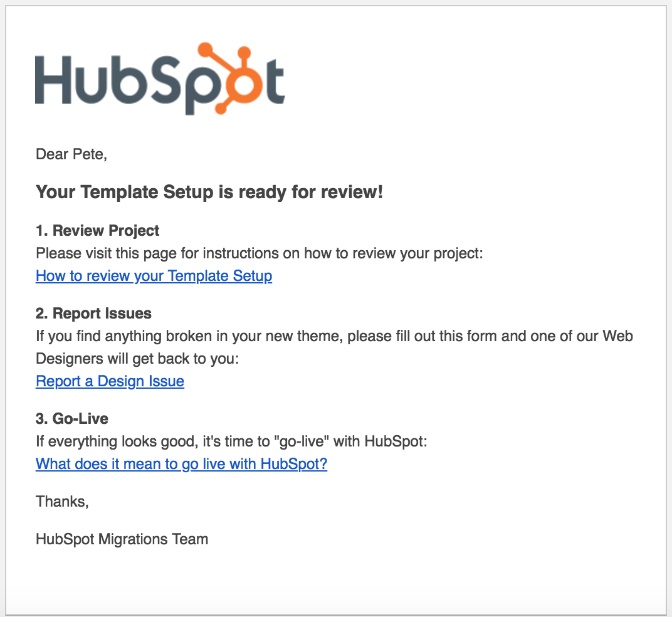 Please send us a copy of the Migration Review Checklist, it will allow us to review the migration from your old CMS to the HubSpot CMS was executed successfully and will make us aware of items that were not included in the migration.
A Website or Template Migration Review is a full report listing all aspects of the setup and HubSpot migration. This report will contain a link to the report to share with the HubDo Team. Once received we can then move forward to commence the Onboarding journey in your HubSpot portal.

This report includes all items that HubSpot was able to migrate and also states all items that were excluded or were not possible to migrate e.g external images. During the 4- 6 week Onboarding period, the HubDo MarTech team will quality assurance check all items and send you an update on how the Migration Review went. We'll ask for your approval on how to proceed with items that were not included and may need to send you a quotation for items excluded on the Template Migration.
Make sure that the HubDo Team has full SUPER ADMIN access to the following tools. Providing the team with full access early on to the items below ensures a smooth configuration of your HubSpot Onboarding.
To get us started with the Hubspot setup, please find below requirements for the HubDo Team.
1. Setup a Collaboration Folder
HubDo has a secure Google Drive, hence we are unable to share anything external of HubDo. To allow us to share information and client collateral easily please:
Create a Folder on your Google Drive
Add any content to share with us, such as logo's, documents, spreadsheets, style guide etc
Click 'Share' on Folder
Share the Folder with monitor@hubdo.com
We will receive an alert via email of the Shared Folder access. This will allow us to access all the client's items without the need to email/Basecamp upload and download.
2. Web, CMS, and Google Analytics Access
Please provide the following details for our MarTech and SEO team:
Current CMS/back-end details
Current DNS registrar access
Current website hosting access
Google Analytics/Tag Manager/Webmaster access
Once we have received the Migration Review Checklist and full access to the above tools, your designated Inbound Project Manager will reach out to you with target dates and another step by step process on how we can complete the Hubspot Portal Setup together.
Happy HubSpottting!