HubSpot campaign reporting brings together the multiple elements of an Inbound Campaign to report on your marketing ROI per campaign. HubDo has designed a simple template to plan your campaign ready to load into HubSpot.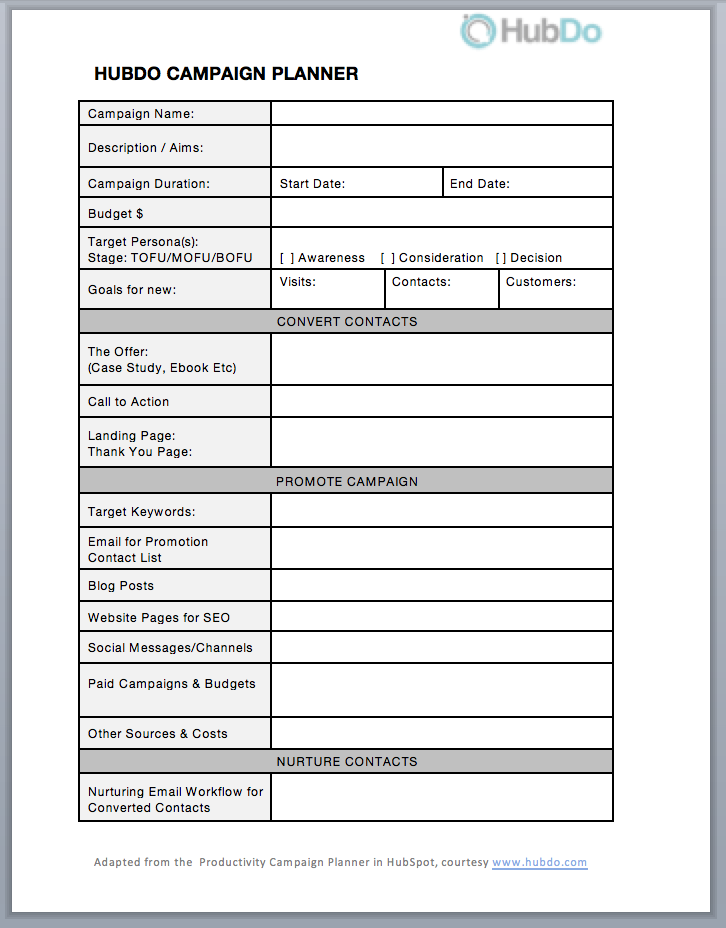 Download the HubDo Campaign Planner (docx)
Complete the top section:

Campaign Name
Description/Aims for this Campaign
Duration as a start date and end date
Your total budget for this campaign, for use later in calculating ROI
The target Persona(s) for this Campaign
Decide whether this is a TOFU, MOFU or BOFU Campaign. If it is potentially all three it can indicate that you are not embracing an Inbound approach

Awareness Stage Campaign (Top Of Funnel, or TOFU)
Consideration Stage Campaign (Middle of Funnel or MOFU)
Decision Stage Campaign (Bottom of Funnel or BOFU)

Finally, set the goals for target number of visitors, contacts (new or influenced) and customers

Complete the Convert Contacts section

What is the Content Offer for which the visitor will complete your intended conversion
What Call To Action Text and/or Buttons will be used on the Website, Emails and other locations, leading to this Campaign
What will the Landing Page (LP) convey when it features the content offer
What will the Thank You Page (TYP) present after conversion, consider relevant blog articles to read and also any next stage offers, for example a MOFU offer on the Thank You Page of a TOFU offer.
Although not included on the template, consider

what List(s) converted contacts will be added to
what form and property fields the visitor will complete
what Email response the contact will receive in addition to the Thank You Page, to acknowledge the conversion and to present the offer for download

Next consider the plans for Promoting this Campaign

What keyword(s) are you targeting if any
What Emails will be involved for promoting the campaign and which lists(s) the emails will be sent to
Which Blog Posts will carry the CTA in support of this campaign
What Website Pages will carry the CTA for this campaign
What Social Channels will be used, along with any key messages by channel
What Paid Campaigns will be run on PPC platforms like Facebook Ads, Google Adwords and YouTube, to promote this inbound campaign
Any other sources you wish to track, paid or otherwise, for promoting the campaign, for example

Letterbox drops with a special URL related to the campaign
Dedicated phone numbers for call tracking related to a campaign or channel
Business partners or affiliates who are willing to participate in promoting this campaign
Billboards, Posters,

Finally, what email autoresponder workflow sequence will apply if any, for which converted contacts will be enrolled?
By getting your thoughts clear in advance, you will have considered all aspects of the campaign before you focus on filling out the HubSpot Campaign Tool
When you are ready to load your Campaign into HubSpot, proceed to the Campaign section on the Planning and Strategy menus.