Google's search results sometimes show information that comes from the Knowledge Graph, a database of billions of facts about people, places, and things.
What is the Knowledge Graph? Google displays a Knowledge Graph panel when a search query contains a notable entity — such as a well-known brand or a famous person — with information and links to related content.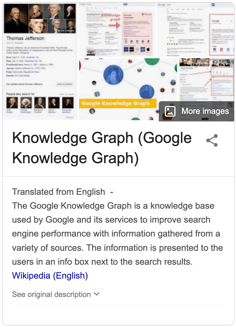 The Knowledge Graph is both a friend and foe – it links to some owned content, but it also links away to other sites and even competitors. Like so many Google search features, however, the Knowledge Graph is a case of "if you can't beat them, join them." Ecommerce sites should learn how to optimise their presence in the Knowledge Graph because there is no way to remove it from your branded search results.